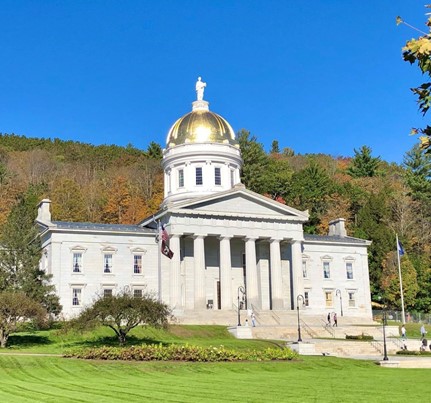 The Vermont Attorney General's Office has internship opportunities throughout the year for law school, masters-level, and college students. The Attorney General's Office will consider applications for full or part-time legal internships during the spring and fall semesters of the school year, and typically full-time internships during the summer.
What to Know:
Interested students will have strong legal writing and research skills, initiative, and an interest in the work of the Attorney General.
Internships at the Attorney General's Office are unpaid.
Internships typically offer one-to-one supervision by an experienced lawyer, an opportunity to work with other lawyers in the Office, and broad exposure to sophisticated government practice.
Typical job duties for interns include research and writing for internal purposes (e.g. memoranda). Previous interns have also researched and drafted Vermont Supreme Court briefs and trial court motions and participated in hearings, trials, and depositions.
Duties may vary depending on the particular Division of the Attorney General's Office where the internship is focused.
Summer Internships with the Attorney General's Office typically include weekly brown bag lunches with other interns from across the office and Division Chiefs (allowing interns to hear about the work of our Office); supervisors within your assigned Division; and connections with mentor attorneys from outside your assigned Division.
Our interns are typically 1st or 2nd year law school students and masters-level students, but the Attorney General's Office occasionally has opportunities for undergraduate students.
How to Apply:
The Attorney General's Office accepts applications from interested interns directly to our office and also recruits at seasonal job fairs and law schools.
Interested applicants should send: a cover letter, resume, current transcript (can be unofficial), a short writing sample and contact information for three references.
If you are interested in a particular Division of the Attorney General's Office please indicate your interest in the cover letter. Divisions of the Office include:
      
→ For more information or to express interest in an internship with the Attorney General's Office, please email: AGO.careers@vermont.gov. (All Summer 2023 internships have been filled. Any applications received will be considered for Fall 2023.)
What past interns are saying:
"I joined the Attorney General's Office with the goal of learning more about litigation and government advocacy––I achieved that and more! I drafted a variety of court documents, researched topics related to ongoing state and federal cases, and participated in different hearings. I created meaningful relationships with staff attorneys inside and outside of the division, which made my experience even more impactful."
 Kendall, Vermont Law School '22, spring 2022 intern
What schools have our interns come from?
Past interns at the Attorney General's Office have attended:
Vermont Law School
American University Law School
Boston College Law School
Cardozo School of Law
Champlain College
Columbia Law School
CUNY-Queens
CUNY
Duquesne Law School
Elizabeth Haub School of Law at Pace University
George Washington Law School
Harvard Law School
New York University School of Law
University of Louisville School of Law
University of Vermont
Yale Law School
And many more…
Where are they now?
Students who have interned with the Attorney General's Office go on to successful careers including:
Vermont Attorney General's Office
Vermont Department of State's Attorneys and Sheriffs
Vermont Treasurer's Office
Michigan Attorney General's Office
Private Practice, Burlington, Vermont
Private Practice, Portland, Maine
Law Clerk, Connecticut Superior Court
Law Clerk, Alaska Superior Court
Law Clerk, Maine Supreme Court